GUAM RECIPES and CHAMORRO RECIPES that are TESTED, TRIED AND TRUE
.....sharing Chamorro culture through food. This book includes the author's collection of recipes: Chamorro BBQ, Other Island Favorites, Guam Desserts, Mix of America and a Treasure Chest of Sweets. A Taste of Guam has the best recipe for guyuria or rolled then fried cookies; roskette or cornstarch cookies; and latiya or custard-over-cake. Paula spent countless hours measuring the ingredients and testing the recipes. This is one island girl sharing ALL HER RECIPE secrets. This Guam cookbook is a must have for those in need of great Chamorro recipes that actually work -- and for college students who have to cook for themselves. Paula included a few recipes to help young men and women facing the world on their own who might need simple recipes to get them going.
You'll also find an islander's list of places to eat on Guam, a list of the village fiestas, and a short timeline of Guam's history. Published 2006; republished 2009 and 2012.
...made Amazon's BEST SELLER list! Click here to purchase.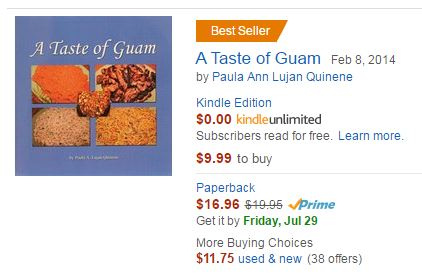 A Taste of Guam is now available as a downloadable Kindle ebook on Amazon.com, published in February 2014. There are a few key differences between the paperback and ebook versions. The Kindle book contains colored photos for most recipes - photos that are currently on this website - while there are no pictures within the printed book.
"hi paula. i've lived in ny for 23 years and my older girls are always asking me for recipes for chamorro food. the problem is i never really measure anything so therefore nothing is written down. i was happy to find your book online. i bought 2 of them for both girls and gave it to them at christmas. they absolutely loved it! just wanted to thank you for doing the book and hope you have lots of sales! i think a lot of families from the island who don't go back so often and crave the food will be happy to know they have a place to get the recipes! thanks again and all the best."
CHAMORRO BBQ
OTHER ISLAND FAVORITES
Deviled Egg Sandwiches
GUAM DESSERTS
Leche Flan
MIX OF AMERICA
Beef Stew
Cheesy Burger
Meatballs
Meatloaf
Scott's Spaghetti
Spaghetti
A TREASURE CHEST OF SWEETS
Pound Cake II
Looking for a recipe? Enter your keywords in the search box:
SATISFYING YOUR GUAM RECIPE CRAVINGS SINCE 2006.
Effective March 2021, PaulaQ will begin replacing Canola and vegetable/seed oils in recipes with pure lard from Reverence Farm, coconut oil, and avocado oil.
LOOKING for something on Paulaq.com? Enter your keyword in the search box below:
PURCHASE YOUR BOOKS TODAY
Here's Home | A Taste of Guam | Remember Guam | More Recipes | Romance Novels | Macaron Book | Visit Guam | Food History | Food Photos | The Big Green Egg | Contact Paula
© Copyright Paula Quinene. Check out Guam cookbooks and Chamorro cookbooks, A Taste of Guam and Remember Guam, for more Guamanian recipes and Chamorro recipes that are tested, tried and true. Get Macarons Math, Science, and Art, for foolproof macaron recipes and techniques. Enjoy a Guam romance novel in Conquered. Most photos courtesy Paula and Edward Quinene.