RÅKKYO

PRINT RECIPE
Råkkyo is pronounced raw-kyu. We loved eating rakkyo growing up on Guam. My dad would buy some from a gas station or a canteena, along with daigo too.
There are several brands of rakkyo available at Asian stores and perhaps even your local grocer. Some soaking or pickling juices are sweeter than others, some more tart. This particular recipe used rakkyo that was in a sweeter soaking liquid. It was labeled "sugar scallions - whole - in syrup."
I've tried cutting the scallions in half lengthwise so they soak up the pickling liquid faster...it works!
INGREDIENTS
Set 1
13 oz. jar of scallions - scallions is what the jar is labeled as
Set 2
¾ c. of rakkyo juice - pickling liquid in the jar
½ c. water
3 ½ T. white vinegar
1/8 t. salt
1 to 2 tsp. hot pepper flakes
Tools: small bowl, medium glass bowl
DIRECTIONS
Pour the juice of the onions into the small bowl.

Place the onions into the large bowl.

Add ¾ of a cup of the juice into the medium bowl.

Add the water, vinegar, salt, and ONE teaspoon of hot pepper to the medium bowl.

Stir to combine and dissolve the salt.

Taste the liquid, adding more hot pepper if necessary. You may also add more vinegar if you want the rakkyo more tart.

The onions need to marinate for one two weeks so the vinegar and spice can permeate the layers of onion.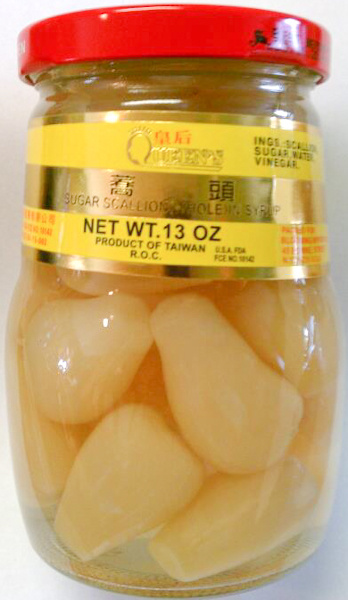 The "raw" scallions you need to make rakkyo.
SATISFYING YOUR GUAM RECIPE CRAVINGS SINCE 2006.
Effective March 2021, PaulaQ will begin replacing Canola and vegetable/seed oils in recipes with pure lard from Reverence Farm, and organic coconut oil. In addition, beef, pork, and poultry products will be sourced from Reverence Farm in Graham, NC.
LOOKING for something on Paulaq.com? Enter your keyword in the search box below:
PURCHASE YOUR BOOKS TODAY
Here's Home | A Taste of Guam | Remember Guam | More Recipes | Romance Novels | Macaron Book | Visit Guam | Food History | Food Photos | The Big Green Egg | Contact Paula
© Copyright Paula Quinene. Check out Guam cookbooks and Chamorro cookbooks, A Taste of Guam and Remember Guam, for more Guamanian recipes and Chamorro recipes that are tested, tried and true. Get Macarons Math, Science, and Art, for foolproof macaron recipes and techniques. Enjoy a Guam romance novel in Conquered. Most photos courtesy Paula and Edward Quinene.