"CROWN BAKERY" CHOCOLATE COOKIE

PRINT RECIPE
If you have been to Crown Bakery on Guam, you have probably seen or you LOVE their sugar-sprinkled chocolate cookies. I created an excellent morsel.....like Crown's, but "....they were so good it was hard to stop eating them." My best friend, Jennifer, and I, would not pass Crown Bakery without stopping in for a dozen of these babies. The bag would sit on the dash until we reached Yigo. Then, the cookies would be soft and ready to eat.
My mom mails me several dozen cookies or bring some out to the states with her. If you would prefer to have yours already made, Crown Bakery does ship to the states:
I was strolling through a bookstore one day and happened upon a dessert book. I decided that I would search for a cookie recipe that looked and sounded like the sugar-sprinkled chocolate cookie from the bakery. After a few tweeks, it was perfect. My "Crown Bakery" chocolate cookie recipe remains soft for days!
"I made these cookies and believe it not they taste exactly like the chocolate cookies from Crown Bakery in Guam, thanks to Paula Quinene for the recipe. Try it!!"
from a fan: " I tried making this and it was a big hit with all who tried it. Thanks for the recipe."
"CROWN BAKERY" Chocolate Cookies
INGREDIENTS
Set 1
6 T. soft, unsalted butter
3 large eggs, room temperature
1.5 c. sugar
Set 2
1.5 c. unbleached, all-purpose flour
1 t. baking powder
½ t. salt
1 c. unsweetened Hershey's cocoa powder
NOTE: Use an adult dinner spoon to scoop the cocoa powder from its container into a 1-cup measuring cup. Do not pack the cocoa powder down. If you use a smaller measuring cup, the cookies may turn out slightly different. Scoop enough cocoa powder to fill the 1-cup measuring cup to the top. If you pack the cocoa powder down, it will be too much cocoa and the cookies will taste as if you used dark chocolate, almost bitter.
Set 3
1 cup sugar in a small bowl for rolling
**Recipe may be TRIPLED with no problems**
Tools: non-stick baking parchment, non-stick pan spray, baking sheet pans, small, self-releasing cookie dough scoop, medium bowl, large bowl, small bowl, electric beater
DIRECTIONS
Preheat oven to 350.
Beat all of set one in a large bowl with an electric beater till thoroughly mixed.

Mix all of set 2 in a medium bowl till well combined.

Pour dry ingredients into wet ingredients and combine with one hand. Mixture will be sticky.

Scrape dough from your hands with a large spoon and scrape around the bowl to save as much dough as possible.

Rinse hands and dry thoroughly.

Line cookie sheets with non-stick parchment paper.

Spray the inside and outside of the scooper with non-stick pan spray. Use the scooper to form a mound of dough and drop the dough into the bowl of sugar. Repeat so you have several mounds of dough in the sugar. You only have to use the pan spray one time, just before your first scoop of dough.

Turn each individual mound of dough in sugar to cover.

Roll the dough in your hands to form a ball then lightly roll again in sugar.

Place on non-stick baking parchment and gently press down into a circle with the palm of one hand; pat down using three presses of your palm. The dough should be one-quarter inch thick. It will bake to about one centimeter thick.

Fill the cookie sheet, spacing flattened dough one-inch apart.

Bake 12 minutes for soft cookies, 15 minutes for somewhat harder cookies.
from a fan: "I made your Crown Bakery Chocolate cookies recipe today..thanks for your recipe...turned out good...never tried the cookie before."
"People from all over the US buy BUCKETS of Chocolate Sugar Cookies! Thank you for loving our products! Next time you are in Guam, please try our HOT DONUTS: 7 a.m. to 9 a.m. then again at 5:30 p.m. to 8 p.m. EVERYDAY! It's the best donut on island! We are open 5 a.m. to 9 p.m. EVERYDAY including the holidays. We are located on Route 10 in Barrigada. You can call us at 671-734-4322 or 4321 or 4826."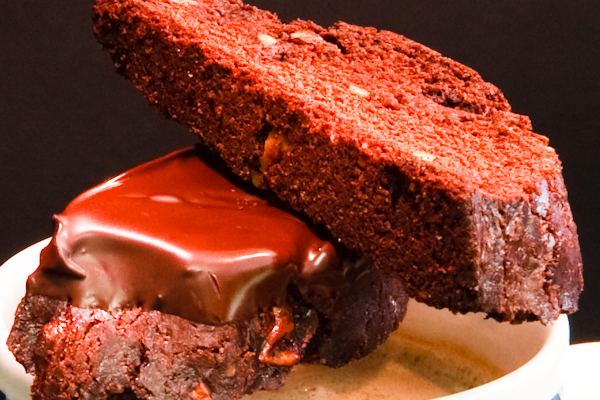 You May Also Like Chocolate-Covered Biscotti
SATISFYING YOUR GUAM RECIPE CRAVINGS SINCE 2006.
Effective March 2021, PaulaQ will begin replacing Canola and vegetable/seed oils in recipes with pure lard from Reverence Farm, coconut oil, and avocado oil.
LOOKING for something on Paulaq.com? Enter your keyword in the search box below:
PURCHASE YOUR BOOKS TODAY
Here's Home | A Taste of Guam | Remember Guam | More Recipes | Romance Novels | Macaron Book | Visit Guam | Food History | Food Photos | The Big Green Egg | Contact Paula
© Copyright Paula Quinene. Check out Guam cookbooks and Chamorro cookbooks, A Taste of Guam and Remember Guam, for more Guamanian recipes and Chamorro recipes that are tested, tried and true. Get Macarons Math, Science, and Art, for foolproof macaron recipes and techniques. Enjoy a Guam romance novel in Conquered. Most photos courtesy Paula and Edward Quinene.