PASTIT

PRINT RECIPE
Pastit, pronounced as pus-tit, is the baked version of pumpkin turnover while buchi buchi is the fried version of pumpkin turnover. These take-and-go treats are popular on Guam throughout the year. Many mom and pop stores sell them as well as the gas stations sprinkled throughout the island.
The crust of the buchi buchi is different from the crust of the pastit, though both use the same filling. The pastit recipe in the cookbook is excellent; it has the perfect ratio of flour to fat to hold up well in your hand and is not oily.
Making pastit in Germany for Guam Liberation 1999.
from a fan: "Thank You Paula Quinene for sharing your recipe! It smells like it's Thanksgiving Day in my home…I told you..fresh from the oven, into my tummy! Gof Mungi!"
from a fan: " I wanted to make pastit. Thanks to you, they turned out just right and my kids and friends loved them."
from a fan: "Hafa Adai, Paula! l bought A Taste of Guam book thru amazon online order,and l was making pumpkin pastit. lt turned out great and delicious!! My family and l love it."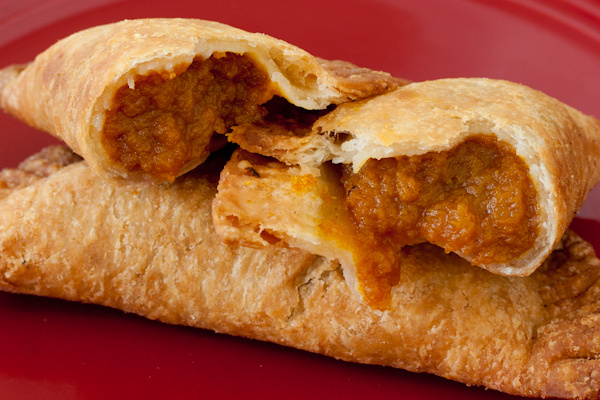 You May Also Like Fried Pumpkin Turnovers
Ties to the world:
Similarities – name, filling
Catalan – pastis
Spanish – pastel
One of the most interesting things I have found about the Chamorro heritage comes from pastit, buchi buchi, and empanada. In Chamorro, pastit is the baked version of pumpkin turnover. Pie translates to pastis in Catalan, and pastel in Spanish. In many Latin American countries, turnovers are referred to as empanadas. In her book, "Latin American Street Food," Sandra Gutierrez defines empanar as "to encase in bread." Suffice it to say, how is it that on Guam we say pastit instead of empanada de calamasa? Buchi buchi on Guam refers to the fried version of the pumpkin turnover, yet in the Phillipines, buchi -- one word only -- is a dessert shaped into a ball, filled, fried, and coated in sesame seeds. Empanada on Guam is specifically the achote-flavored, masa harina-crust turnover filled with achote-flavored chicken and rice. This divergence reflects the influence of Spain, Mexico and the Philippines on Guam's food during the island's early history.
SATISFYING YOUR GUAM RECIPE CRAVINGS SINCE 2006.
Effective March 2021, PaulaQ will begin replacing Canola and vegetable/seed oils in recipes with pure lard from Reverence Farm, and organic coconut oil. In addition, beef, pork, and poultry products will be sourced from Reverence Farm in Graham, NC.
LOOKING for something on Paulaq.com? Enter your keyword in the search box below:
PURCHASE YOUR BOOKS TODAY
Here's Home | A Taste of Guam | Remember Guam | More Recipes | Romance Novels | Macaron Book | Visit Guam | Food History | Food Photos | The Big Green Egg | Contact Paula
© Copyright Paula Quinene. Check out Guam cookbooks and Chamorro cookbooks, A Taste of Guam and Remember Guam, for more Guamanian recipes and Chamorro recipes that are tested, tried and true. Get Macarons Math, Science, and Art, for foolproof macaron recipes and techniques. Enjoy a Guam romance novel in Conquered. Most photos courtesy Paula and Edward Quinene.