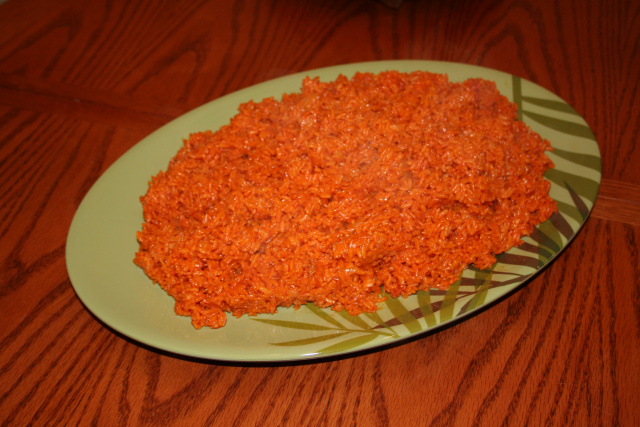 RED RICE
Red rice is Guam's rice! Achote or annatto seeds or powder is what gives the rice its orange-reddish color. Way back when, red rice was shaped in cups then stacked on platters serving over 1,000 people...friends, relatives and strangers walking along the streets. Some cooks add green peas and bacon.
If you are buying seeds in a store and your red rice has an off taste, the seeds are old; its safer to buy powder when in doubt. You may also order seeds via on-line stores. They will be listed as "annatto." If your rice has a starchy taste, you need to add more oil.
Watch Paula make red rice on YouTube to see some secrets she has learned to coloring your rice without getting orange hands.
Return to A Taste of Guam Next recipe
&nbsp&nbsp&nbsp
&nbsp&nbsp&nbsp
PURCHASE YOUR BOOKS TODAY
A note from Paula - Feel free to post links to my Guam recipe videos and website on your Facebook page, your Facebook group page, your website, or your favorite social media site. In fact, I highly encourage you to do so especially if you feel your friends and family will benefit from my work. Thank you for sharing!
Here's Home | Cooking Today | A Taste of Guam | Remember Guam | Macaron Book | Novel: Conquered | Ingredients Tools | Visit Guam | Green Egg | Garden Goodies | More Recipes | Hey Paula
© Copyright Paula Quinene. Check out Guam cookbooks and Chamorro cookbooks, A Taste of Guam and Remember Guam, for more Guamanian recipes and Chamorro recipes that are tested, tried and true. Get Macarons Math, Science, and Art, for foolproof macaron recipes and techniques.