VIP RESTAURANT - TUMON
December 2013
Everyone enjoyed their buffet meal at the VIP House in Tumon! My brother had lots of duck, my parents had plenty of honey walnut shrimp, and the rest of us enjoyed a bit of everything. The ice cream, from wherever they get it, was so much more delish than any ice cream I've had in the states.
The setting of the restaurant was perfect -- casual or semi-fancy dress if you want. The room temperature was perfect and the staff very helpful. You can see the sign for the restaurant driving down Tumon. If you park behind the building, you'll enter right to the entrance of the restaurant -- good for those with knee problems. If you park in front, you'll have to climb the stairs.
The little-bit-of-everything plate: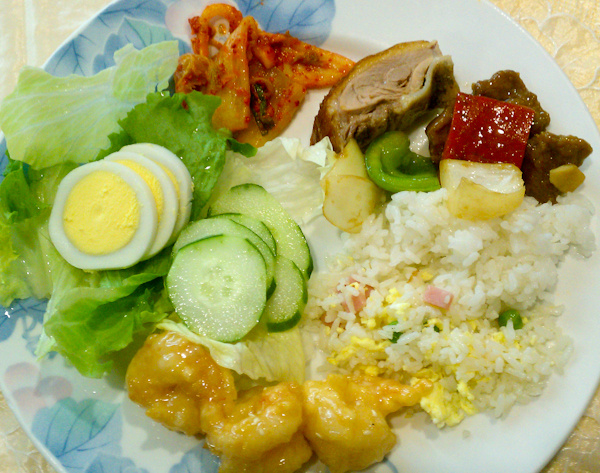 The shrimp plate:
The duck plate:
Awesome ice cream:
December 2013 prices: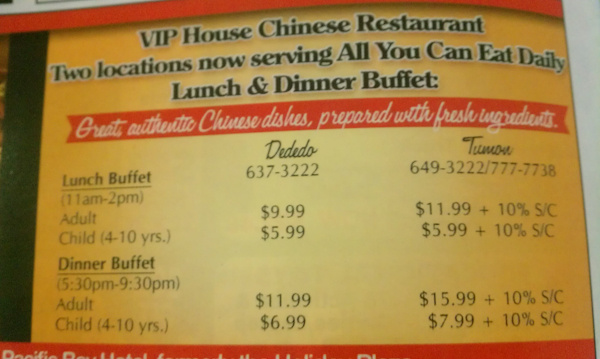 Telephone 671-649-3222
SATISFYING YOUR GUAM RECIPE CRAVINGS SINCE 2006.
Effective March 2021, PaulaQ will begin replacing Canola and vegetable/seed oils in recipes with pure lard from Reverence Farm, and organic coconut oil. In addition, beef, pork, and poultry products will be sourced from Reverence Farm in Graham, NC.
LOOKING for something on Paulaq.com? Enter your keyword in the search box below:
PURCHASE YOUR BOOKS TODAY
Here's Home | A Taste of Guam | Remember Guam | More Recipes | Romance Novels | Macaron Book | Visit Guam | Food History | Food Photos | The Big Green Egg | Contact Paula
© Copyright Paula Quinene. Check out Guam cookbooks and Chamorro cookbooks, A Taste of Guam and Remember Guam, for more Guamanian recipes and Chamorro recipes that are tested, tried and true. Get Macarons Math, Science, and Art, for foolproof macaron recipes and techniques. Enjoy a Guam romance novel in Conquered. Most photos courtesy Paula and Edward Quinene.