THE KRACKED EGG
DECEMBER 2013
My numero uno place to relax and eat was at The Kracked Egg in Tumon. I'm not sure if it was the early-morning-hour open sign, white-on-concrete decor, friendly staff, eggcellent drip coffee, delicious food or the coconut-tree view, but I LOVED THIS PLACE! I felt right at home which I think was because of the concrete -- go figure -- I grew up with my dad working on our concrete house. The Kracked Egg was the perfect pitstop after a walking session -- and it's not too far a drive from Yigo.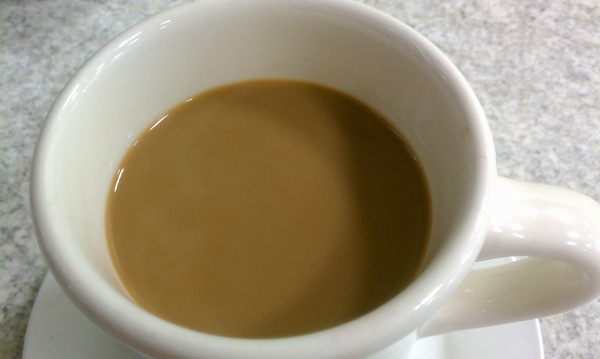 Just a plain cup of coffee right? Well, on this particular day in December 2013, it was the ultimate cup of drip coffee. I don't know who made it or what type of coffee they used, but it had free refills and was really the best cup of regular coffee I ever had. The second time I ate there it was a bit different, but still delish. Price: $2.50.
My first meal was the chorizos pak pak with eggs, toast and rice. My sister-in-law and I shared because that's how you keep from gaining weight on vacation -- exercise first then eat only half of your food! I don't think you can find the old types of chorizos pak pak on Guam anymore -- the monster thick ones. But given this situation, I totally enjoyed my meal! Price: $10.95.
The second time around I ordered the velvet cake pancake meal and OMG it was scrumptious. I've never had velvet cake pancakes and if you haven't tried them either, it's a must! I started to eat the hot cakes without the cream cheese topping, but that's a no go. You've got to eat the topping too for the full effect of the meal. Price: $12.50. Service fee is 10% of the bill.
I loved sitting by the windows -- something you have to take advantage of when on Guam. One of the great things about Guam in December is that it is generally cool, breezey and oh so green. I've never seen so many coconut trees and such lush foilage -- or could it be that I just left NC where all the leaves had fallen and most of the jungles were brown?
The Kracked Egg is in the same building as Burger King, but at the opposite end. It's also across the Tumon Sands Plaza and not too long a walk from the parking spaces behind Duty Free.
Telephone 671-648-0881
SATISFYING YOUR GUAM RECIPE CRAVINGS SINCE 2006.
Effective March 2021, PaulaQ will begin replacing Canola and vegetable/seed oils in recipes with pure lard from Reverence Farm, and organic coconut oil. In addition, beef, pork, and poultry products will be sourced from Reverence Farm in Graham, NC.
LOOKING for something on Paulaq.com? Enter your keyword in the search box below:
PURCHASE YOUR BOOKS TODAY
Here's Home | A Taste of Guam | Remember Guam | More Recipes | Romance Novels | Macaron Book | Visit Guam | Food History | Food Photos | The Big Green Egg | Contact Paula
© Copyright Paula Quinene. Check out Guam cookbooks and Chamorro cookbooks, A Taste of Guam and Remember Guam, for more Guamanian recipes and Chamorro recipes that are tested, tried and true. Get Macarons Math, Science, and Art, for foolproof macaron recipes and techniques. Enjoy a Guam romance novel in Conquered. Most photos courtesy Paula and Edward Quinene.