JOANN'S BAKERY
SUMMER 2015, 2017, 2021
Joann's is right down the street from my house in Yigo so I always go there. Even through 2021, the ube jelly roll is still my fave! Love their mung bean haupia too
DECEMBER 2013
I grew up eating my auntie Julie Cruz's jelly rolls. They were soft, moist and amazing. Joann's ube cake roll is perfection at its best. When cake can stand practically on its own, it doesn't need the proverbial "icing on the cake." The filling to such lusciousness seems to be plain butter. That said, if you fridge the roll, you must let it come to room temerature so the butter can soften. Joann's Bakery has several other flavors of cake rolls. Price ?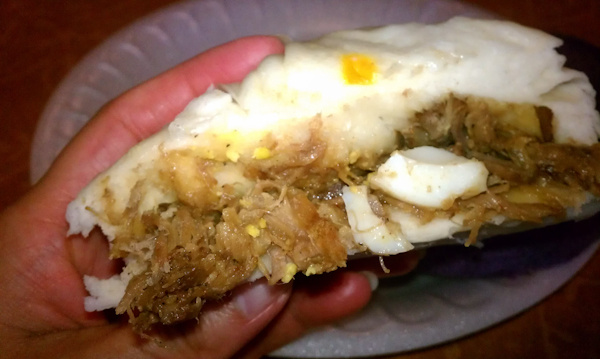 Way back when, gas stations around Guam used to carry amazing siopaos...from wherever they ordered them. These days, the best are served up at Joann's Bakery in Yigo -- lucky us northerners! While I love my own siopao recipe -- the filling a bit on the sweet side -- Joann's is reminiscent of estufao with an extra dash of black pepper. The boiled egg in this meal-on-the-go is definitely right at home. Joann's siopao dough is spot-on in texture, though again I like mine on the slightly sweeter side. I know they have chicken and pork siopao. Price ~ $1.95.
One of the things I loved about growing up on Guam is that the bakeries were well stocked with all kinds of pies. Some bakeries made one type of pie better than the other, but they all had a selection of pies. Above is a clip of the flavors Joann's had in stock the day I took the pics. Price ?
Getting in and out of the parking lot for the bakery may be a bit of a problem if you are going against traffic during the typical traffic hours. If you miss the bakery, try Naomi's bakery directly across the street in the Payless mall or stop in at Hafa Adai Market just down the street toward Sanchez High School. Hafa Adai Market stocks a few local goodies to go.
SATISFYING YOUR GUAM RECIPE CRAVINGS SINCE 2006.
Effective March 2021, PaulaQ will begin replacing Canola and vegetable/seed oils in recipes with pure lard from Reverence Farm, and organic coconut oil. In addition, beef, pork, and poultry products will be sourced from Reverence Farm in Graham, NC.
LOOKING for something on Paulaq.com? Enter your keyword in the search box below:
PURCHASE YOUR BOOKS TODAY
Here's Home | A Taste of Guam | Remember Guam | More Recipes | Romance Novels | Macaron Book | Visit Guam | Food History | Food Photos | The Big Green Egg | Contact Paula
© Copyright Paula Quinene. Check out Guam cookbooks and Chamorro cookbooks, A Taste of Guam and Remember Guam, for more Guamanian recipes and Chamorro recipes that are tested, tried and true. Get Macarons Math, Science, and Art, for foolproof macaron recipes and techniques. Enjoy a Guam romance novel in Conquered. Most photos courtesy Paula and Edward Quinene.