SIOPAO

PRINT RECIPE
Siopao, pronounced show-pow, is a Filipino dish sold in bakeries and gas stations all over the island. The recipe in A Taste of Guam is for chicken siopao, though pork and beef may also be used. Siopaos on Guam might have a slice of a hard boiled egg. The dough of this recipe is super soft and luscious!
And the debut of my Spam siopao, March 5, 2015......don't you just want to bite the screen? It's insanely good and from now on when I make siopao, I will make this version too: half a boiled egg, half a slice of American cheese, 1/18th to 1/9th a slice of Spam...or as much as you can fit in without tearing the dough....this is what happens when you run out of regular filling and need to make use of extra dough.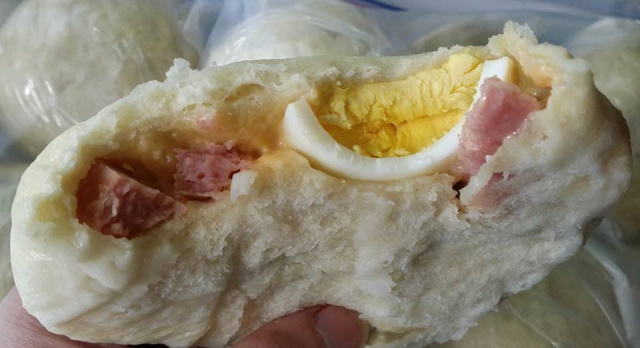 I also make a cheesy-bacon bitty-scrambled egg filling that we all love: make cheesy scrambled eggs with lots of bacon bits mixed in. Fold a slice of American cheese in half then tear it in half. Place one half in the center of the dough then top with cheesy-bacon bitty scrambled eggs.
from a fan: "My siopao turned out beautiful. Tastes good, too. Thanks for the recipe, Paula!"
Chicken kelaguen siopao blog post
Corned beef / PBJ siopao blog post
SATISFYING YOUR GUAM RECIPE CRAVINGS SINCE 2006.
Effective March 2021, PaulaQ will begin replacing Canola and vegetable/seed oils in recipes with pure lard from Reverence Farm, and organic coconut oil. In addition, beef, pork, and poultry products will be sourced from Reverence Farm in Graham, NC.
LOOKING for something on Paulaq.com? Enter your keyword in the search box below:
PURCHASE YOUR BOOKS TODAY
Here's Home | A Taste of Guam | Remember Guam | More Recipes | Romance Novels | Macaron Book | Visit Guam | Food History | Food Photos | The Big Green Egg | Contact Paula
© Copyright Paula Quinene. Check out Guam cookbooks and Chamorro cookbooks, A Taste of Guam and Remember Guam, for more Guamanian recipes and Chamorro recipes that are tested, tried and true. Get Macarons Math, Science, and Art, for foolproof macaron recipes and techniques. Enjoy a Guam romance novel in Conquered. Most photos courtesy Paula and Edward Quinene.