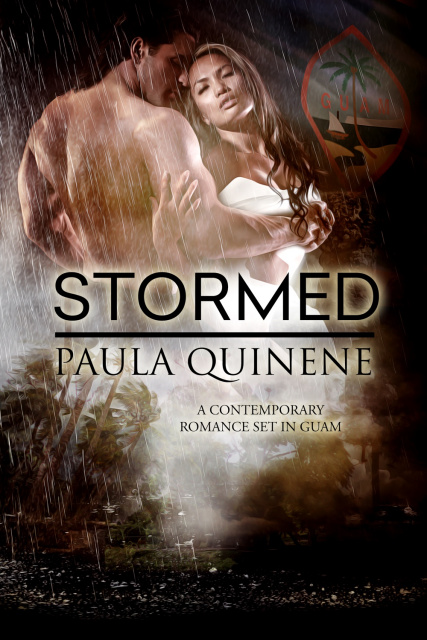 STORMED
6 years of research, 6 years of writing, a few years of saving, and 27 years of being mahalang/homesick -- I share with you a tale that brings Guam's history, culture, and food into her more recent past. In 1992, though it is 48 years after World War II and Conquered, political turmoil and unrest continue to brew as the storms of life collide with Super Typhoon Omar on Guam.
FROM THE BACK COVER:
A medical doctor educated in the United States, passionate and fierce Liz Taimanglo must now fulfill her promise and return to her island home. Liz makes the long flight across the US and the North Pacific Ocean to Guam, uncertain of what her future holds. Heading into the epicenter of her family and prime typhoon season for the Mariana Islands chain, the disquiet of her heart threatens to do more damage than any typhoon might inflict on Guam. Little does Liz know, the man featured in the newspaper would indeed unleash delicious torment rivaling even a Category 5 super typhoon.
Manny Artero is adamant about fighting for his island, his culture, and the rights of Guam's Chamorro people, after having been fired from his teaching job. That is, until Liz walks up to him with her machete-wielding eyes and her undying respect for the American military. Manny had vowed never to risk his heart again and to become a more vocal activist, but this woman threatens to challenge all his intentions about love and life on Guam. Brushing off the safer choice, he plots a series of surprises to change her mind.
For Liz, becoming a doctor of medicine was supposed to be the right path, but her universe imploded when her training failed to save the life of the most important person in her world. Though a former US Marine, Manny could no longer accept the loss of land, rights, and freedom that Chamorros continue to suffer in their own homeland. Helpless against the strengthening attraction between them, Liz and Manny must face not only their opposing political views, but the storms stirring in their hearts and the very land upon which they stand.
"Set in the early 1990s, Stormed is teeming with as much political unrest and protest as it is with an unlikely and irresistible romance between its two protagonists. After reading Conquered, the first book in the series, Stormed was a welcome return to Guam, which gave my inner anthropologist the opportunity to learn more about the astonishing Chamorro culture—past and present. Not only is Stormed a complex and intriguing addition to novels about the South Pacific, this historical romance will help raise awareness of the effects of American colonialism on the people of Guam." – Stacey Donovan, Writer, Editor, and Author of Dive
SATISFYING YOUR GUAM RECIPE CRAVINGS SINCE 2006.
Effective March 2021, PaulaQ will begin replacing Canola and vegetable/seed oils in recipes with pure lard from Reverence Farm, coconut oil, and avocado oil.
LOOKING for something on Paulaq.com? Enter your keyword in the search box below:
PURCHASE YOUR BOOKS TODAY
Here's Home | A Taste of Guam | Remember Guam | More Recipes | Romance Novels | Macaron Book | Visit Guam | Food History | Food Photos | The Big Green Egg | Contact Paula
© Copyright Paula Quinene. Check out Guam cookbooks and Chamorro cookbooks, A Taste of Guam and Remember Guam, for more Guamanian recipes and Chamorro recipes that are tested, tried and true. Get Macarons Math, Science, and Art, for foolproof macaron recipes and techniques. Enjoy a Guam romance novel in Conquered. Most photos courtesy Paula and Edward Quinene.