ENERGY BARS
I met my good friend Lori Mendoza in college at the University of Oregon. One of the items in her care packages from home was the energy bars from her grandma, Jo Rabago. These are sinfully delicious, and Lori is sharing the recipe with us. *Note that I have changed the mixing process slightly from what was originally published in the cookbook.
INGREDIENTS
Makes 24 bars.
Set 1
2 – 10 oz. packages marshmallows
1 c. creamy peanut butter
1 stick unsalted butter
Set 2
½ c. sesame seeds
6 c. Rice Krispies cereal or any brand of crispy rice cereal
2 c. quick-cooking oats
1 c. unsalted peanuts
1 c. raisins
Tools: large pot, 11 x 17 inch half-sheet pan, non-stick spray or ghee, wax paper, tape
DIRECTIONS
1. Spray a half-sheet pan with non-stick spray or apply thin coating of ghee and set aside. Ghee is clarified butter.
2. Mix all set 1 in a large pot over medium heat. Heat until everything has melted and the mixture is smooth.
3. Reduce heat to low then pour all the remaining ingredients into the pot. Stir to thoroughly combine.
4. Transfer the mixture to the half-sheet pan and gently spread to fill the entire pan ensuring it's an even layer. Don't press the mixture too hard once its spread out.
5. Cool completely.
6. Cut the mixture into 8 columns on the long edge then into 3 rows on the short edge. Separate into individual bars then wrap in wax paper and tape to secure.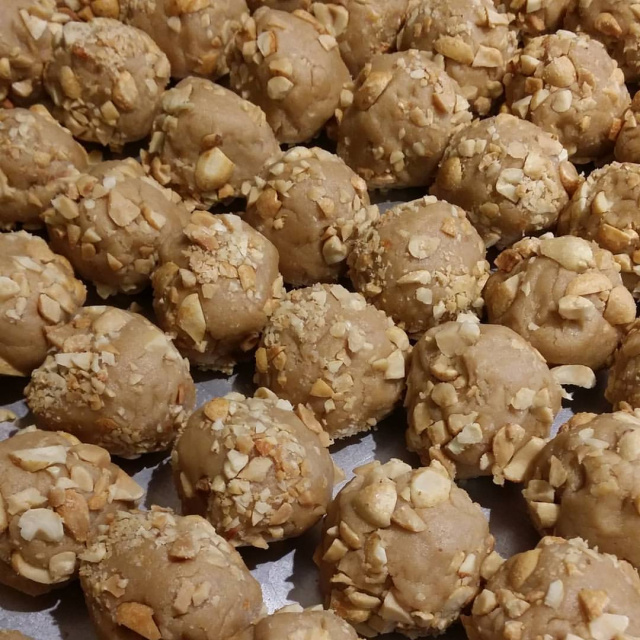 You might also like Peanut Butter Balls
SATISFYING YOUR GUAM RECIPE CRAVINGS SINCE 2006.
Effective March 2021, PaulaQ will begin replacing Canola and vegetable/seed oils in recipes with pure lard from Reverence Farm, and organic coconut oil. In addition, beef, pork, and poultry products will be sourced from Reverence Farm in Graham, NC.
LOOKING for something on Paulaq.com? Enter your keyword in the search box below:
PURCHASE YOUR BOOKS TODAY
Here's Home | A Taste of Guam | Remember Guam | More Recipes | Romance Novels | Macaron Book | Visit Guam | Food History | Food Photos | The Big Green Egg | Contact Paula
© Copyright Paula Quinene. Check out Guam cookbooks and Chamorro cookbooks, A Taste of Guam and Remember Guam, for more Guamanian recipes and Chamorro recipes that are tested, tried and true. Get Macarons Math, Science, and Art, for foolproof macaron recipes and techniques. Enjoy a Guam romance novel in Conquered. Most photos courtesy Paula and Edward Quinene.