CROWN BAKERY
SUMMER 2015, 2017, 2021
I'm updating the restaurant pages and wondering how does time go by so fast??? One of the new things I discovered in 2021 at Crown Bakery is the adobo pan de sal with cheese -- omg soooo good! It's the baked version of a siopao, but such a nice change and def great flavor.
DECEMBER 2013
Crown Bakery in Barrigada has been around for as long as I can remember. It is THE iconic bakery on Guam. Thank goodness the owners decided to open a second location in Dededo, especially in time for my trip home in December 2013! I'll chit chat more about Crown when you head down to the Barrigada eateries. Needless to say, I loved going to the gym early in the morn then pulling into Crown Bakery Dededo on my way home -- the best way to have bakery food is immediately after a workout!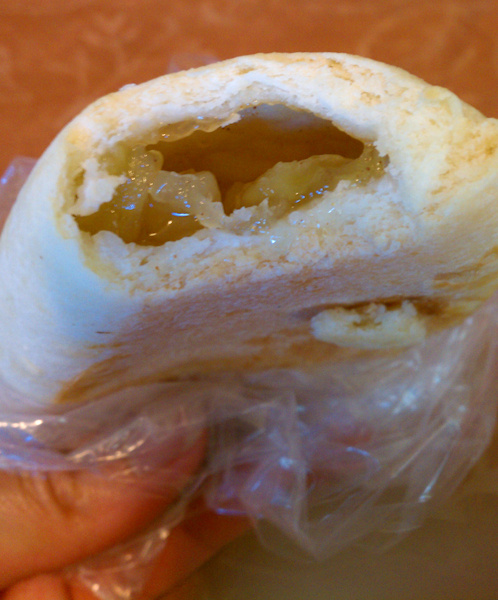 The one thing I craved in the states was a good apple turnover -- and I found it at Crown Bakery. It's that perfect crust that goes well with the apple filling -- thick, supple and not flaky. Crown Bakery's apple turnover crust has just enough give for it to be slightly chewy without breaking apart in your hand. This is the one pastry that I really enjoyed, so much so I bought it multiple times. It's sweet, but not too sweet and has plenty enough filling for the great crust. With a glass of milk, a small turnover can pretty much satisfy your tummy for a few hours. There are two sizes. I recommend getting two small ones instead of one big one because the big one is enough for two people. Price for small: $0.75.
Crown Bakery also makes soft milk bread. There are a variety of toppings for the bread, but the original -- and my fave and the only one I tried -- is the custard milk bread. You get the best of both worlds -- custard and bread. I'd suggest asking for a box and getting more than the milk bread -- a bag will just give the custard something else to stick to instead of your bread. Price: $2.50.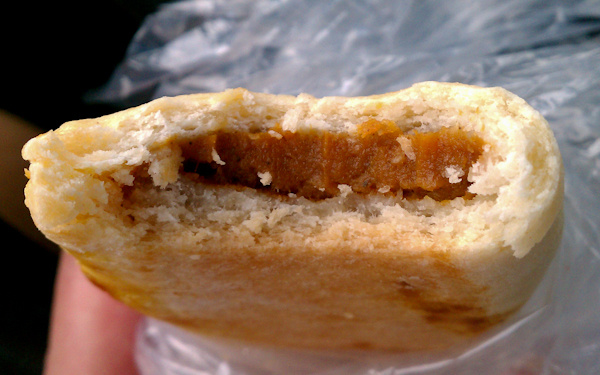 The pumpkin turnover was good -- but I actually prefer a thin crust instead of a thick crust for this flavor. Thinking back, it was so yummy after my workout. Price: $0.75.
These chocolate cookies are the bomb -- and I couldn't leave home without at least one. While I have my own version of Crown Bakery's chocolate cookie, there is something about the original. My recipe yields a soft cookie through and through -- Crown's cookie is especially soft the first day or two after baking. Beyond a few days, the bakery's cookies do get hard -- the solution is to place a bag of the cookies on the hot dash of your car then drive around for 30 minutes -- the sun softens them right up! Price: $0.45.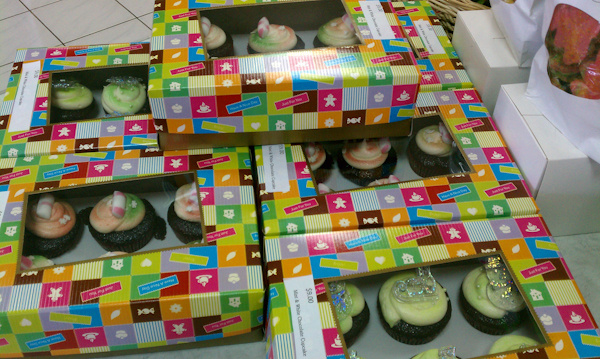 The Dededo Crown Bakery location has much more parking space because it is located in a strip plaza. The plaza is on the left at the intersection of Marine Drive and Wusstig Road. You should be able to see the signs for the bakery, especially when it's dark outside. P.S., I tried the fresh, hot doughnuts at the Barrigada location and they are to-die-for -- stop in at Dededo for doughnuts that are supremely better than Krispy Kreme.
Telephone (671) 989-6292
Up to date Crown Bakery info including email, hours, and ordering info, click here.
SATISFYING YOUR GUAM RECIPE CRAVINGS SINCE 2006.
Effective March 2021, PaulaQ will begin replacing Canola and vegetable/seed oils in recipes with pure lard from Reverence Farm, and organic coconut oil. In addition, beef, pork, and poultry products will be sourced from Reverence Farm in Graham, NC.
LOOKING for something on Paulaq.com? Enter your keyword in the search box below:
PURCHASE YOUR BOOKS TODAY
Here's Home | A Taste of Guam | Remember Guam | More Recipes | Romance Novels | Macaron Book | Visit Guam | Food History | Food Photos | The Big Green Egg | Contact Paula
© Copyright Paula Quinene. Check out Guam cookbooks and Chamorro cookbooks, A Taste of Guam and Remember Guam, for more Guamanian recipes and Chamorro recipes that are tested, tried and true. Get Macarons Math, Science, and Art, for foolproof macaron recipes and techniques. Enjoy a Guam romance novel in Conquered. Most photos courtesy Paula and Edward Quinene.