10 years of research, 10 years of writing, 10 years of saving, and 23 years of being mahalang/homesick -- I share with you my gift to Guam, her children, and those that fought/fight for her, and the United States of America. I thank you, and I am so grateful.
An Amazon #1 BEST SELLING BOOK!
The Japanese bombed and left Pearl Harbor, but several hours later, they bombed and occupied Guam, the only American soil to have been taken by the enemy. After almost three years of brutal occupation, on July 21, 1944, Guam's liberation was imminent. Jesi, a native girl, would have suffered at the hands of the Japanese if not for Johan, a liberating American soldier bent on putting himself in harm's way. Conquered is an erotic historical romance of a young woman and an embittered soldier. It's a story about war, hope, faith, and love, and the spirit of the Chamorro people.
Conquered is a passionate love story, as much about its main characters, Guam native Jesi Taimanglo and American GI Johan Landers, as it is about author Paula Quinene's passion for Guam itself. As her characters try to find a place for themselves amid the war, Jesi's relatives, and the Chamorro traditions, Quinene charts a path through a seldom told story: Guam's place in WWII. An original idea written with an original voice that invites readers in to the exotic world of the Pacific, complete with coconut trees, banana doughnuts, dolphins swimming in the ocean, and moonlight on Pago Bay, Conquered also recounts the brutal horrors of the Japanese occupation on Guam, a US territory largely forgotten back in the States. In addition to learning about a singular and little-known culture that has played a part in the world wars of the Pacific, readers will undoubtedly crave the recipe for banana doughnuts.
—Stacey Donovan, Writer, Editor, and Author of Dive
Kindle and paperback books are available on Amazon.
CONQUERED
is featured in the
Journal of Popular Romance Studies: Chamorro WWII Romances: Combating Erasure with Tales of Survival and Vitality
By Carolina Fernandez Rodriquez, Professor of American Literature and Culture at the University of Oviedo, Spain.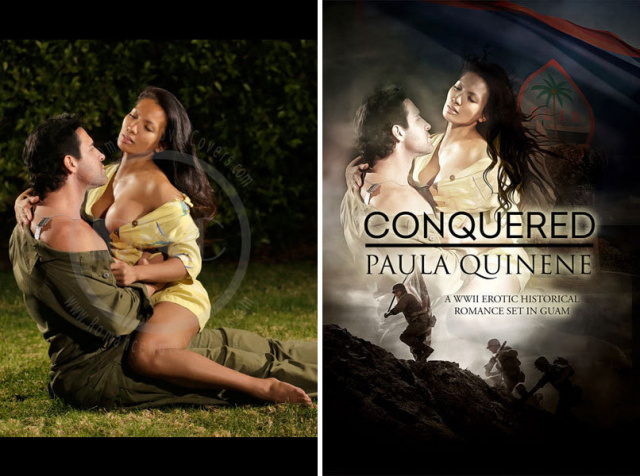 From a beautiful image, to an amazing cover!
Book Editor - Stacey Donovan of Donovanedits.com
Cover Models - Jimmy Thomas and Heang Lay of Romancenovelcovers.com
Cover Artist/Video Reveal - Fiona Jayde of Fionajaydemedia.com