10 years of research, 10 years of writing, 10 years of saving, and 23 years of being mahalang/homesick -- I share with you my gift to Guam, her children, and those that fought/fight for her, and the United States of America. I thank you, and I am so grateful.
An Amazon #1 BEST SELLING BOOK!
Groomed to become the people's medicine woman, smart and resourceful Jesi Taimanglo has been hiding in a cave in Guam, hoping to escape Japanese treachery during WWII. Having noticed more frequent and louder bombs on the eve of July 21, 1944, Jesi realizes the Americans are finally rescuing her people. Instead of waiting for her family to come for her, she leaves her hideout to find them. She is caught by the enemy, but the American who soon rescues her appears just as threatening.
Blaming himself for the death of his beloved, Johan Landers enlisted in the US Army in February 1942, and ends up in the middle of the war on Guam. Hell-bent on putting himself in harm's way, a marauding airplane blows him from his platoon. Awakened by terrified screams, Johan is enraged to find a native girl pinned by three Japanese soldiers in a nearby shack. Ignoring his injuries, he eliminates her attackers, one by one.
Jesi is expected to marry a Chamorro man, but the one who's awakening sensations in her heart and body is not a man of her own race. Still grieving, Johan has vowed to keep his heart closed forever yet the girl that patched him up, with her strange eyes and beautiful smile, has crept into the deepest place of his heart. Unable to resist forbidden passion, Johan and Jesi must hide their growing attraction. As time nears for Johan to ship out, they must choose between their love for each other, and their duty to those that rule them.
Conquered is a passionate love story, as much about its main characters, Guam native Jesi Taimanglo and American GI Johan Landers, as it is about author Paula Quinene's passion for Guam itself. As her characters try to find a place for themselves amid the war, Jesi's relatives, and the Chamorro traditions, Quinene charts a path through a seldom told story: Guam's place in WWII. An original idea written with an original voice that invites readers in to the exotic world of the Pacific, complete with coconut trees, banana doughnuts, dolphins swimming in the ocean, and moonlight on Pago Bay, Conquered also recounts the brutal horrors of the Japanese occupation on Guam, a US territory largely forgotten back in the States. In addition to learning about a singular and little-known culture that has played a part in the world wars of the Pacific, readers will undoubtedly crave the recipe for banana doughnuts. —Stacey Donovan, Writer, Editor, and Author of Dive
Kindle and paperback books are available on Amazon.
CONQUERED
is featured in the
Journal of Popular Romance Studies: Chamorro WWII Romances: Combating Erasure with Tales of Survival and Vitality
By Carolina Fernandez Rodriquez, Professor of American Literature and Culture at the University of Oviedo, Spain.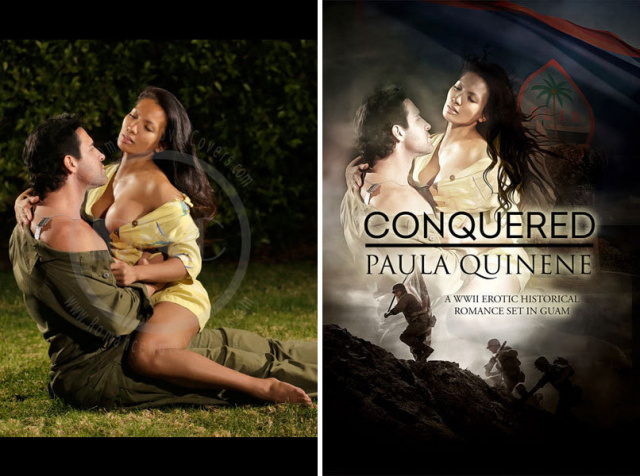 From a beautiful image, to an amazing cover!
STORMED -- the sequel to CONQUERED.
Book Editor - Stacey Donovan of Donovanedits.com
Cover Models - Jimmy Thomas and Heang Lay of Romancenovelcovers.com
Cover Artist/Video Reveal - Fiona Jayde of Fionajaydemedia.com