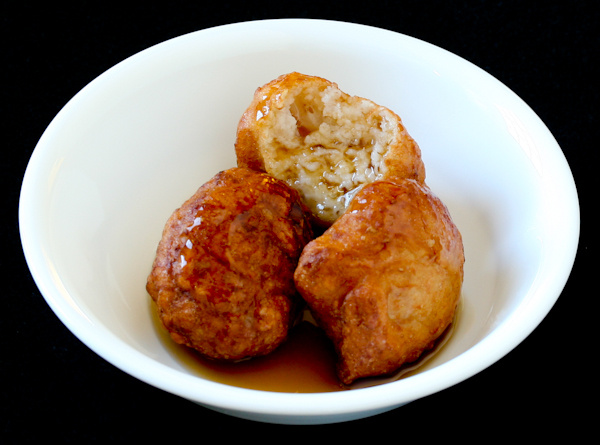 BONELOS DAGU
(bo-nye-lus daw-goo)
This is a yam doughnut, but not the orange yams you find near the sweet potatoes in the states. Dagu is scientifically referred to as dioscorea alata, of which come in several varieties and colors: white, purple and I believe red. The correct spelling for dagu in the Chamorro-English dictionary is "dagu."
Stateside, Japanese white yams are available at your local Asian grocer.
The skin of the different dagu have oxalate crystals that make human skin itch. My solution is to take a gallon freezer bag around your hands to skin the dagu. I mix the peeled dagu with bare hands, leaving me just a tiny bit itchy, nothing to fret about. I did some research and found you may soak the dagu in a solution of vinegar and water to help neutralize the crystals; try soaking it for 10 minutes. I wouldn't make it a very strong vinegar solution or soak longer than 10 minutes or you may end up tasting the vinegar. Still, you should use protection when skinning.
Return to Remember Guam Next recipe
&nbsp&nbsp&nbsp
&nbsp&nbsp&nbsp
PURCHASE YOUR BOOKS TODAY
A note from Paula - Feel free to post links to my Guam recipe videos and website on your Facebook page, your Facebook group page, your website, or your favorite social media site. In fact, I highly encourage you to do so especially if you feel your friends and family will benefit from my work. Thank you for sharing!
Here's Home | Cooking Today | A Taste of Guam | Remember Guam | Macaron Book | Novel: Conquered | Ingredients Tools | Visit Guam | Green Egg | Garden Goodies | More Recipes | Hey Paula
© Copyright Paula Quinene. Check out Guam cookbooks and Chamorro cookbooks, A Taste of Guam and Remember Guam, for more Guamanian recipes and Chamorro recipes that are tested, tried and true. Get Macarons Math, Science, and Art, for foolproof macaron recipes and techniques.