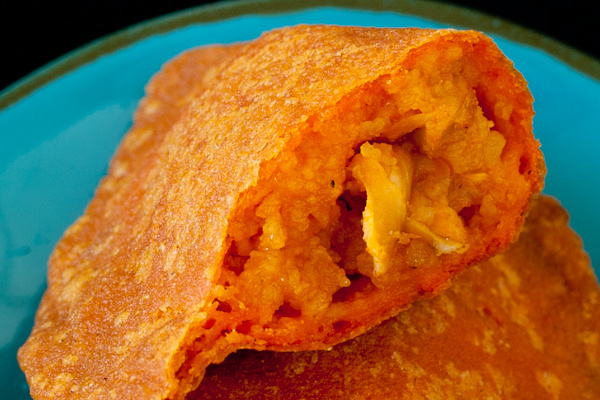 CHAMORRO EMPANADA
(im-pa-na-da)
Empanadas are popular all over the world, espcially in Spanish speaking countries. Guam's Chamorro empanada, however has one look and one taste. The crust is made of masa harina flavored with achote; the filling is ground rice and achote with chicken. The Chamorro empanada recipe in Remember Guam is crunchy and supremely tasty. Goya con y cilantro is used to enhance the taste, though it is optional.
I ran out of wax paper one day so I subsituted with the fold-top sandwich bags. You simply sandwich the dough between the long, straight side of the bag, leaving the folded sleeve on the outside; close the empanada press as usual and walla, it's done. You can find an empanada press on-line where it is referred to as a "tortilla press."
In analyzing the nutritional data for my empanada recipe in "Remember Guam," I decided to use a 1/4-cup measuring cup for the dough and filling instead of eyeballing the dough to the size of a golfball and using 2 to 3 tbsp. of filling. Simply scoop the empanada dough into a 1/4-cup measuring cup, ensuring the dough does not extend beyond the rims; do the same for the filling. Using this method, one batch of chalakiles and two batches of dough make 46 large, full and yummy empanadas!
A trick for leftover empanada is to place one in each slice of your toaster. I keep my heat on the highest setting then toast the empanada about three to four times, as long as it does not burn. Alternate the end that is pointing down with every toast. It comes out crispy and yummy with even less oil because I stored the empanada on a napkin-lined container.
from a fan: "Paula, Aloha and Hafa Adai! Hey, we used your youtube instruction for making empanadas...what a HIT!!! Thanks very much for the posting and keep up the teach!"
Photos by A.L. and M.L.
Return to Remember Guam Next recipe
Ties to the world:
Similarities – masa crust, achote color
Costa Rica – use of tortilla press, masa harina crust
Veracruz, Mexico – masa for crust without achote, filling includes shrimp
Ilocos, Philippines – masa crust includes rice flour, uses achote but filled with longganisa, veggies and egg
I took a cooking class by Sandra Gutierrez at A Southern Season in Chapel Hill, NC. The pictures below are of sopes de Papa y Chorizo, a Mexican dish, using the author's recipe in her book, "Latin American Street Food." I share this with you because the crust for the sopes is basically empanada dough without the achote. Mix the Guam-empanada-like crust with chorizos, and well, you get the idea. The chorizos in this sopes is uncooked, Mexican sausage instead of the cooked, chorizos Espanot we love so much. In Sandra's book, the only empanada that uses a masa crust was the empanadas de Camaron. Camaron de Tejeda is a town in Veracruz, Mexico.
&nbsp&nbsp&nbsp
&nbsp&nbsp&nbsp
PURCHASE YOUR BOOKS TODAY
A note from Paula - Feel free to post links to my Guam recipe videos and website on your Facebook page, your Facebook group page, your website, or your favorite social media site. In fact, I highly encourage you to do so especially if you feel your friends and family will benefit from my work. Thank you for sharing!
Here's Home | Cooking Today | A Taste of Guam | Remember Guam | Macaron Book | Novel: Conquered | Ingredients Tools | Visit Guam | Green Egg | Garden Goodies | More Recipes | Hey Paula
© Copyright Paula Quinene. Check out Guam cookbooks and Chamorro cookbooks, A Taste of Guam and Remember Guam, for more Guamanian recipes and Chamorro recipes that are tested, tried and true. Get Macarons Math, Science, and Art, for foolproof macaron recipes and techniques.