BONELOS YEAST
Bonelos is pronounced bo-nye-los.These douhgnuts are rolled then shaped into rings or ovals, commonly sprinkled with cinnamon and sugar. Years past, kids would sell bonelos yeast door to door in the neighborhoods. These days, you are likely to find them in favorite mom & pop stores around Guam. If you are lucky, someone will make some and bring it to a party or a rosary.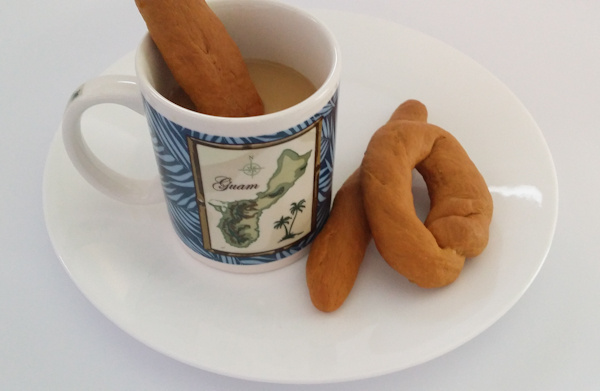 LOOKING for something on Paulaq.com? Enter your keyword in the search box below:
PURCHASE YOUR BOOKS TODAY
Here's Home | A Taste of Guam | Remember Guam | Macarons Math Science Art | Novel: Conquered | Visit Guam | Jura Coffee and Espresso | More Recipes | The Big Green Egg | Garden Goodies | Contact Paula
© Copyright Paula Quinene. Check out Guam cookbooks and Chamorro cookbooks, A Taste of Guam and Remember Guam, for more Guamanian recipes and Chamorro recipes that are tested, tried and true. Get Macarons Math, Science, and Art, for foolproof macaron recipes and techniques. Most photos courtesy Paula and Edward Quinene.