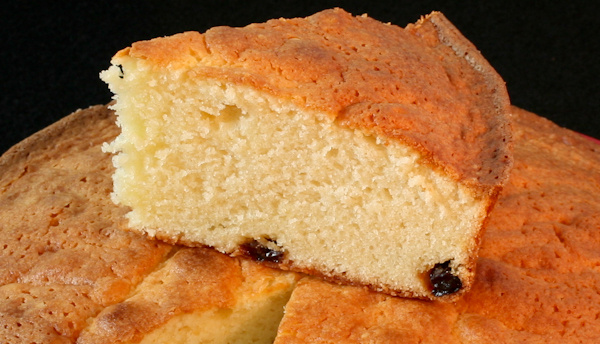 CHAMORRO CAKE
Chamorro cake is more like a pound cake compared to brojas, the Chamorro sponge cake. If you use all-purpose flour, my recipe yields a dense cake. If you prefer cake flour, the cake is luscious and light. I actually prefer the dense cake.
Some people include raisins in their Chamorro cake. Depending on the type of cake or baked good, raisins have a tendency to sink to the bottom; this happens with my Chamorro cake recipe.
I have since learned that I like my raisins rehydrated. There are a couple of ways to do this. For the picture above, I soaked the raisins in very hot water for 20 minutes then drained them. Immediately before adding the raisins to the batter, coat them liberally with flour. Use a fork to scoop only the raisins over the batter. The coat of flour keeps some of the raisins from sinking all the way to the bottom.
Return to Remember Guam Next recipe
&nbsp&nbsp&nbsp
&nbsp&nbsp&nbsp
PURCHASE YOUR BOOKS TODAY
A note from Paula - Feel free to post links to my Guam recipe videos and website on your Facebook page, your Facebook group page, your website, or your favorite social media site. In fact, I highly encourage you to do so especially if you feel your friends and family will benefit from my work. Thank you for sharing!
Here's Home | Cooking Today | A Taste of Guam | Remember Guam | Macaron Book | Novel: Conquered | Ingredients Tools | Visit Guam | Green Egg | Garden Goodies | More Recipes | Hey Paula
© Copyright Paula Quinene. Check out Guam cookbooks and Chamorro cookbooks, A Taste of Guam and Remember Guam, for more Guamanian recipes and Chamorro recipes that are tested, tried and true. Get Macarons Math, Science, and Art, for foolproof macaron recipes and techniques.